So you have finished installing WordPress on your Website and don't know what to do next. In today's special post, I will be sharing the list of important things you should be doing once you are done with WordPress installation. This special post will be really handy for those newbie who have installed WordPress content management system on their blogs for the first time. It will also be helpful to those guys who used to install WordPress on their own or friends website quite often but missed some points in between. This could work as a checklist that you should complete after installing WordPress on Your self-hosted website.
Check: Free WordPress Installation with Must Have Plugins Service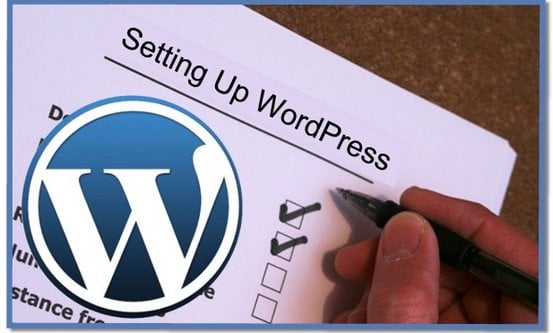 I have been using WordPress CMS on my blogs for some time now and thus compiled a list of things I would love to do after doing the WordPress installation. As far as WordPress is concerned, it is the most popular and most used open source blogging and dynamic content management system.
1. Change in Permalink Structure
First thing that you should do after installing WordPress on your domain is making change into your Permalink structure. WordPress default permalink structure is not that much user and search engine friendly. Default WordPress Permalink structure will be something like https://bloggerspassion.com/?p=123. To make changes into your Permalink Structure go to Settings –> Permalinks and select custom structure. Now enter /%postname%/ and Click Save Changes. After entering this custom URL structure, your post title will be used in URL.
WordPress gives us the facility to choose between www and non-www version for our website URL. We should either pick the www version or non-www version. There is not much difference between both the versions. But the point will be sticking with the one version once we are finished with its selection. If we keep switching between both the versions time to time, lots of duplicate pages will get created on WordPress blog as search engines consider www and non-www versions are separate pages. For BloggersPassion.com, I'm using non-www version. I noticed lots of blog websites are using the non-www version and that's why I made this decision. You can make decision about your website version from Settings –> General.
Default WordPress theme will not be that much cool. You can either pick free WordPress theme from WordPress official themes directory here or can use a premium theme for your WordPress blog. If you know a bit about coding, Thesis Theme will be best option for you. In case you cannot code, you have to take help of a thesis theme expert for some of design and functionality related dependencies. No doubt, you can add lots of features and can make design related changes without touching a single line of code. For thesis theme, lots of help tutorials are available on internet. And if you ask me what will be best alternative to Thesis theme, I would say give a try to Elegant WordPress Themes collection.
4. Install the Essential WordPress Plugins
Now it's time to install some essential plugins into your WordPress based website:
Akismet Plugin for Spam Comments Protection
You should install a plugin that should be able to differentiate between genuine and spam comments. For preventing spam comments on your blog, you should give a try to Akismet plugin.
Nrelate plugin for Showing Related Posts
How you are going to show related posts on your WordPress blog? You can do this thing by installing Nrelate plugin on your WordPress blog. YARPP can be considered as a good alternate to Nrelate plugin.
Google XML Sitemaps plugin for creating automatic XML Sitemap files
How you will go about getting your blog posts and pages indexed in major search engines including Google? You can achieve this thing by creating an XML sitemap file for your WordPress blog and get that submitted to search engines. There is a WordPress plugin called Google XML Sitemaps that will automatically create XML sitemaps for your blog.
Broken Link Checker Plugin
You should install broken link checker plugin to get rid of broken links on your blog. No one love to see broken links on their website and even search engines don't like websites that has too many links that takes them nowhere.
W3 Total Cache Plugin
Since website speed seems to be playing a big role when it comes about getting good rankings on Google, so we need to install a caching plugin to speed up our WordPress blogs. You should install W3 Total Cache plugin on your WordPress blog.
Contact Form 7
You would love to add a contact form on your blog so that target audience can interact with you directly. You can do so by installing Contact Form 7 or similar WordPress plugin.
Easy WP SEO Plugin
You will need a SEO plugin that can help you in optimizing the Onpage SEO aspects of your blog posts. Easy WP SEO plugin will help you in this direction.
5. Set up a FeedBurner Account
WordPress default feed will not give you much customization options. You can optimize and promote your blog feed in a better way by setting up an account with Feedburner. Feedburner was taken over by Google in 2007 and is now available as one of free services from Google. You can use your Google or Gmail account to set up an account with FeedBurner. Once your feedburner RSS feed is ready, you need to find a way to redirect default WordPress Feed users to your feedburner feed. You can do so by installing a FeedBurner FeedSmith Extend plugin into your WordPress blog. After installation, this plugin will redirect all of WordPress default feeds to Feedburner feed.
6. Create Basic Pages and Update Your Profile Details
Now set up some basic pages on your WordPress blog. You should start creating pages like About us, Contact us, Privacy Policy, Disclaimer, Sitemap etc.
7. Set Up an Account on Gravatar.com
It's time to set up an account on Gravatar.com. You should add your own image or your brand while completing your profile on Gravatar. Your Gravatar image will be shown beside your name on your posts and comments etc. There are lots of blog owners who would not allow you guest blogging opportunity on their blogs if you don't have an account on Gravatar.com.
8. Create a Favicon and Logo for your Blog
You should add a favicon and logo on your blog. If you don't know how to create a decent logo for your blog, you can take help from any of your friend who knows designing.
9. Set Up Google Analytics and Google Webmaster Tools Accounts
This is very important step. You should create a Google Analytics account for your blog. You need to create an account on Google Analytics to keep track of visitor's behaviour on your website. Apart from Google Analytics, you should set up an account on Google Webmasters Tool. You can keep track of your website health and can take necessary action from your GWT account.
10. Add Social Media Subscription Links at Different Levels on Your Blog
Since Social media signals have become very important when it comes about getting good rankings on Google search, you need to take all necessary measures in this direction. You need to add icons and buttons for major social media websites in your website with the intension to help your blog readers follow and share stories of their interest on these networks. It's a great idea to add buttons for these websites in your blog sidebar the way I had added in Bloggers Passion sidebar.
There are plugins like Digg Digg which will help you in installing icons for popular social media networks at post level.
There are some more additional steps you should take in order to present a truly professional and good-looking blog to your readers:
Add categories, sub categories and edit the default categories
You should add different categories and sub-categories on your WordPress blog. You should edit or delete the default category section.
Remove or Edit Default BlogRoll Section
After WordPress installation, your blogroll section will have some default links. You should either edit these links or should remove the blogroll section completely from your blog for now. You can start a blogroll section on your blog later as well.
Add a Tagline
Now think about adding a tagline to your blog. You should choose a tagline that has some relation with your blog niche or your blog content. With Bloggers Passion, I'm aiming at helping other bloggers about their blogging related queries. Tagline that I'm using for BloggersPassion.com blog is UNLEASH THE BLOGGER IN U.
Add SEO Optimized Titles and Meta tags at different Levels
You should add SEO optimized and natural looking titles and meta tags at different levels on your blog. First of all you should make your home page section SEO friendly. And then applies the similar kind of actions on other sections of your WordPress site.
Set Up Robots.txt and 404 Page
You use to set up robots.txt file to hide certain type of files and folders from search engine index. If there is some portion of your website that you don't want to get indexed, you need to disallow that by making entries in your robots.txt file. Apart from this, you should also set up a 404 page on your blog for non-existing content requests.
User Registration Facility
If you want to create a multi-author blog or want to allow guest blogging facility to your blog readers, you need to activate the user registration facility from Settings –> General. You need to select Anyone can register box against Membership. You can assign a default role to all users. You can make them subscribers or contributors and then later can upgrade to higher roles like Author, Editor and Admin if required.
I tried my best to include everything that one should be doing after installing WordPress on their website. But there must be some more points that I missed mentioning in this post that you guys used to do after WordPress installation. What are some initial steps you used to take once you are finished with the WordPress installation? Please share your thoughts in this regard in the comments section.