Home » Blogging » Killer Tips For Newbie Bloggers To Attract New Customers In 30 Days
Every business needs customers, and customer is the King. One of the biggest challenges faced by business these days is to attract new customers. It is especially tough for new businesses to get customers while they still have funds to survive. Unless customers come and give business the much needed money they need most new businesses die. On the other hand if you adopt smart strategies to acquire customers quickly and break even at a rapid pace or even better become profitable in the very first month – wouldn't it be simply great?
The challenge is how to do it. In this post we will tell you some killer tips employed by successful online marketers to become profit and that too just in a month. Read on to get into the profitable league:
Day 1: Decide on what you are going to do: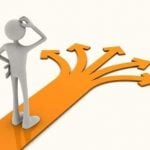 The first thing that you should brainstorm before venturing out for an online business is what you are going to do. Spend a day researching on your interests, hobbies, what you can write well about or how your expertise can help others. Based on these factors decide on a niche that you are passionate about and will really add value to your customers or users that visit the website or blog that you are later going to create. If you are able to convert this expertise to an online product – that would be really great because you will have something concrete to offer to your customers besides providing with the much needed advice. A product like an online ebook or a software that helps solve some critical problem or add value to your customer can be ideal. Try to develop an online product that you can deliver via internet and take payments via payment gateways. This removes the hassles of dealing with the complexities and headaches involved in a physically deliverable product. But if you feel that you have a killer product that has to be delivered physically and bring out a great change to the user's life do it by all means.
Day 2: Research your niche:
Internet has become furiously competitive be it any niche. This is more truer for niches which provide great returns like real estate, finance, health, search marketing. So if you are going for a product which is going to directly compete with the leaders out there make sure that you have sufficient resources to stay and fight long. These experts in their own niche are really excellent online marketing experts and chances of they giving you online space is very minimal unless you have some really outstanding in your hands. This also signifies the role of finding a niche which does two things, first there is a low competition in that niche and secondly it suits your interests as well. The idea is to passionately work in even small niches so that you get an edge easily. What is the point of getting next to zero success in a very profitable niche like real estate while getting good success in a small niche product like fishing rods? At the end of the day it's you who has to decide on these factors and once you decide on it. Stick to it for some time say at least 6 months and give it totally dedicated effort.
Day 3: Get online:
Now that you have your niche try to find a domain name that has keywords in it related to your niche for example if fishing rods is the niche you choose – try to get a domain name with fishing rods in it. Unless you are going for a specific geographic locality like US or IN go for a domain ending with .com – that is the most popular top level domain extension out there and it gives you a global presence. The second part in getting online is to get a good web hosting provider like Bluehost or Hostgator which are one of the most popular service providers in this niche and sign up for a plan that suits you. There are discounts and many other services offered for free by these hosting providers which will help you in getting online fast. The idea is not to waste time when you have decided to start an online business and bring in customers fast. The more you delay the more difficult it gets in acquiring your first customer.
Day 4: Put up a decent website:
If you don't have the expertise in HTML, CSS and other web technologies stick to WordPress. It is one of the most popular content management system out there and it takes just 5 minutes to install. Lots of help and technical documentation along with plugins and themes that give your website a decent look and functionality are available in its repositories. These are both free and paid. The free ones can be tried and tested but to get a professional look we suggest you go for a professional theme and plugin provider so that the commitment that comes with any such professional provider helps you out when you land into a trouble with your website.
Day 5. Build up trust:
Trust is what people look for before they pull out credit cards from their pockets to pay for a product or service? What brings trust to a website? Here are a few things that will help you: A professional look, no typos, photographs of your team and office, about us page, privacy policy and disclaimer that clearly states how are you going to use their data and whether you intend to share it with others or not. People are very much concerned about their private information especially when they make payments. Make sure that your payment page is having a https level security. Your hosting provider can help you get it by shelling out a small amount but it will give the confidence to your customers and users that they are dealing with a valid business who won't run away with their hard earned money. There are other affiliations like Better Business Bureau and Accredited Business, Verisign Verified that can be bought and placed on your website appropriately so that trust comes to your users easily.
Day 6: Create a social presence:
If you are not having a presence on Facebook, Twitter, Google + etc we sincerely believe that you are living in stone age. A lot of content sharing, user interaction and other online things happen on these social networks. So you must get a presences on these. Try to get a vanity URL which represents your domain name or keyword, similarly get a Twitter handle which has keywords. Don't ignore Google + because it is going to have a massive impact on your search rankings as Google starts taking social signals into its search algorithm. Last but not the least do look professional on these social network, don't borrow images from internet or misaligned images, don't post content that is not professional and doesn't promote your business interests. It is especially important that you social networking pages do contain the elements of your corporate entity – the logo, the color schemes, the fonts , the company photographs etc.
Day 7: Start Putting Up SEOd Content And Assign Tasks:
Just setting up a website and leaving it there without any kind of activity will not do the trick for you. Content is the king on the internet. Now it's time to start putting up high quality content in your niche. Since you have already shown a considerable level of interest in that particular domain it is assumed that you will be putting up quality content. There will be users coming to your website once you start putting up decent level of content. The users will comment, have their own queries and inquiries about your products, be prompt in answering these. Make a content calendar and if you are not a one man operation assign tasks on who will be doing what like who will be reviewing the comments, who will be answering product related queries and who will be contacting prospective customers. Unless there is a clarity on what who will be doing and when, there will be chaos and this can lead to a poor performance of your website in search engines. One more thing that we would like to add here is that the content you put should meet the Google's guidelines on SEO which is basically search engine optimization and helps your web page rank in search engines over the others. There are a detailed set of guidelines that are available on bloggerspasssion.com which will help you achieve this. Here is a list of few of them:
Day 8: Set up Alerts and Start Networking:
Google provides an excellent service called Google Alerts. You can sign up for Google Alerts and get updates on what your competitors and the web is up to on your chosen keywords. You can sign up to 1000 alerts and get them right into your inbox. This way you can find out the latest news, updates and competitive tracking and you can comment on them get connected with them and start following them on various social networks. This will help you keep in touch with what is happening in your niche and believe us this is really important. The more knowledgeable you are on what is happening in your niche the more prepared you will be to get to the top.
Day 9: Research Your Competition:
Search Google for who is ranking currently on the keywords you are fighting for. There are various tools available like SeoMoz, Rank Tracker, Link Assistant etc which will help you get a technical insight into what is the number of backlinks they have, where are they coming from, how old are the domains, how many pages are crawled etc. This will help you get a clear insight on what efforts you will have to make in order to compete with them. This will also provide you with resources from where the competitors are taking the edge and backlinks you can also contact the system administrator of those pages to get links and get even.
Day 10: Create landing pages:
Though every page on a website is a landing page for a particular keyword, but it is really essential that you make landing pages for keywords that you are going to bid for and buy traffic as is the task for the next day, and follow the best practices on landing pages.
Day 11. Buy Traffic If You Have The Budget:
Depending on the preference of your service provider Microsoft or Google you can buy traffic from MSN Adcenter and Google AdWords, there are few other such paid advertising networks but the Google AdWords is undisputed leader. Google AdWords allows you to buy traffic for a particular keyword which can be very specifically targeted to customers and based on your bid and ad quality score the your paid advertisement will appear on the top and right sidebar of google search pages and inside Google products like Gmail. These paid advertising networks also allow you to put on display ads like banners and flash based interactive ads which are of varied sizes to suit both publishers and advertisers. Here are 10 Faqs on Google Adwords and a complete help on this Google Product.
Day 12. Focus Your Paid Traffic To Suit Your ROI.
Google AdWords and MSN Adcenter allow you to get paid traffic and users instantly but there is a lot of expertise needed to master this game and get the best ROI on your adspend. What you bid, what are your keywords, what are your geographical targets, how are the landing pages designed, how is the ad copy written, how are the banners designed, if you are focusing on retargeting how are you making your remarketing lists… these are just some of the points and people have come out with automatic bidding tools, there are Google certified experts and lots of other companies that provide these services – by all means check them out and outsource it if you find that paid search is becoming very challenging for you and you are losing money rather than making.
Day 13. Get some Insights On Your Website:
Install Google Analytics on your website and get details on your visitor statistics, where are they coming from, which keywords are they using to reach your website, what are the most popular pages, which pages are they bouncing from, what paid keywords are giving you business there are lots of insights provided by this Google Analytics tool and the more you get familiar with it the more competitive edge you will be able to derive from the data provided by it.
Day 14: Set Goals and Funnels and Link Your Paid Account To Google Analytics:
After installing Google Analytics you need to set Goals and Funnels so that you are able to analyze what tracks users are taking while purchasing a product and where are they bouncing from, what pages are converting and sending the most business to your website while what pages are hindering the purchase process. This will help you create and streamline your purchase process funnel.
Day 15:Incorporate Customer Feedback Mechanism:
Incorporate online live chat, feedback forms, contact forms, call us buttons on your website and make sure that visitors are able to find them clearly. Don't keep them hidden within layers of information. This customer feedback is a god send opportunity right from the customer. The feedback can be in the form of complaints, service requests, more information on your products etc. make sure you assign a specific resource to address all these feedbacks and don't ignore them at any cost.
Day 16: Set up a Toll Free Number:
Mobile phones are present with almost every individual these days, this makes a perfect case for you to have a toll free number on your website since people like to interact with persons on voice rather than chat having a toll free number will only increase the chances of customer interaction on your website. Keep track of all the calls made on this number and if possible install and Interactive Voice Recognition system so that user can route themselves to the right department and get a targeted reply. But in any case make sure that the replies are prompt, you can also install an automatic reply mechanism that acknowledges that the customer's request has been heard and is under process. This gives a lot of confidence to the user and increase the chances of conversion.
Day 17: Set up a Customer Relationship Management System:
Customer relationship management has become an essential part of any online business these days. Profiling a customer, their call, what they enquired for, when did they get their replies, were they satisfied with they reply, did they buy a product or service, how long did it take from the call to purchase… all these insights are very valuable for any business. Managing leads, following up on stale leads, deleting unwanted queries all become very easy with a properly set Customer relationship management system. So to make your online business successful set up an online or software as a service (SAAS) based system they are cheaper and update themselves with constantly new features which are very costly to maintain if you have a CRM that is maintained offline at your premises.
Day 18: Set up Email Marketing Campaigns:
Email marketing is one of the best tools to kick start your customer acquisition process. This also means having a lead capture mechanism on your website. Don't expect your website's opt in list to grow by leaps and bounds unless you are very popular and standing out there with a killer product. Rent email list from trusted sources and send promotional offers via them. This will give your business and initial fillip. Here are some resources to get you started on email marketing.
Day 19: Make a Social Media Strategy:
Since you will be putting up content on a regular basis as decided by your content calendar and have also incorporated social sharing buttons on your website. There is a good chance that your content will be shared across social networks and will be commented upon and liked or negatively commented. You should constantly monitor these networks for any such things and reply to them as promptly as possible and in a professional manner. On the other hand if your content doesn't get promoted there should be someone with this task of promoting your content on social networks. Do not ignore social networks.
Day 20: Buy Social Media Traffic If It Suits Your Budget:
Facebook, LinkedIn etc networks allow advertising and that too very targeted one so if you are interested in promoting your product to customers based on their preferences and personal profiles you can do so – it all depends on your budget and do remember that each paid search traffic source has its own characteristic and unless you understand the intricacies of each of them it is better to let an expert handle them for you so that you don't loose money and reputation online.
Day 21: Offer Freebies To Your Customers:
Who doesn't like freebies? Offer your visitors some bait, a free ebook, online course, or if you prefer a lunch at the local restaurant but do not forget to tie up this freebie with some incentive for yourself, like email if you want a free eBook or online course, personal data and few references with a free lunch etc. Freebies help you connect with your customer and give them a taste of your product before they actually want to buy it.
Day 22: Try To Set Up Connections with Influencers in Your Niche:
Influencers are everywhere, on Facebook, Twitter, Google +, blogs, forums… you name it. Try to find out the best persons in your niche, interview them, try to connect with them, offer your product as a freebie to their mailing list… comment on their content, promote their content, write a reply or extension to their content … do whatever you can to connect to them this will provide you with authority on the topic and give a good impression to your users. People are more inclined to buy from authoritative sources. So it is always beneficial to get in touch with the experts out their and help them out even if it means long term gains and there is nothing short term to back up on.
Day 23: Collaborate With Others In Your Niche:
Share email lists, products, promote the products in a win-win situation in your niche. This will help you make your presence felt as well as spread the word about your product. Even if it means doing it for free initially do it by all means, you have nothing to loose because you are just starting up and desperately need someone to hold up and climb up the ladder.
Day 24: Set weekly, Monthly and Quarterly Goals To Achieve:
Nothing is achieved unless numbers are put up against a task. This is a proven fact, even the most un accountable tasks should have some kind of metrics attached to it so that you can calibrate the effort. It could be like putting 10 content posts in a month, tweeting 20 times a month, sharing 30 interesting links over a month, replying to comments every week, attending to customer feedback within 2 minutes etc… Unless you set up goals on other dimensions of your website you are very much unlikely to achieve your customer acquisition goal.
Day 25: Start a Referral or Affiliate Program and Suitably Reward Who Bring You Business:
Affiliate programs are very popular among the online community and if you have a good product you can start your own affiliate program via Clickbank and Linkshare etc. Affiliate program is basically a referral based program that helps you get customers and the people who send you customers also get a commission for their good deed. This is clearly a win-win situation and you can approach all the good webmasters in your niche and tell them about your product and affiliate program associated with it. There are two things to remember here. First the product should be great and cater to a specific niche rather than a broad clientele and secondly there should be honesty in referral sales tracking, approval and payments. If you falter on these to vital parameters this thing won't work for you.
Day 26: Find Groups In Your Niche and Start Participating:
There are lots of groups on Yahoo, Google, Forums, Blog networks etc. which cater to your niche. Find these groups, join them and start participating creatively by solving other's problems and adding value to the groups. Slowly you can start promoting your own products in the groups and in forum signatures, that will help people recognize your expertise in the niche and will be more inclined to buy from you rather than if you simply join a group and start promoting your product brazenly.
Day 27: Manage Your Online Reputation:
As we have said above, online reputation is one of the biggest thing that is challenging businesses and individuals today. If you have good reviews, ratings and positive feedback on social networking and rating sites, you will get more business. The other side is true as well, poor rankings can put your entire effort into vain and leave you with nothing but frustration. Here are few links that could help you manage your online reputation:
Day 28: Build An Interactive Mechanism With Customers That Creates Win Win Situation:
Always remember your customers are your greatest assets, try to convert them into your brand ambassadors. The first step in this process is providing an excellent product, superb customer service and why not use them to refer other people to your product or service. You can always incentivize them and ask them to bring in 5 guests per customer to a lunch especially organized for your customer, or give them freebies that they with unique referral code that they can distribute among their offline connections so when they buy from you, the customers can be suitably compensated. The trick is to get customers to bring in more customers and spread the information about your product. This kind of word of mouth marketing from known persons works like wonder and has made many businesses successful.
Day 29: Analyze and Iron Out Things That Are Not Working:
Set out a review process, it could be quarterly for some tasks, monthly for others and weekly for some more. Do check out what is working or not. If you are focusing on a keyword which you wanted to rank in Google top 10 within 3 months you can ask the person responsible on what is the position? Similarly check all processes and review them for quality once every quarter. This will keep your team on toes and aligned to the goals. It is especially important to weed out things that are just consuming the resources and focus all the effort on revenue generating process. Put all your resources which is giving you business. Leave out the others.
Day 30: Rinse and Repeat:
Though there is a lot of competition online you have to be constantly keeping the vigil on the entire process. The goals that you set, the analytics that you monitor, the adspend that you are making , the ROI on the adspend every little thing matters. Even a Facebook share, tweet and a Google + share, no matter how little it is just do it. Chances are great that if you follow these steps and institutionalize them you are going to get your first customer in 30 days. What if it doesn't happens? There is nothing to worry about, the competition is tough, you are on the right track, do persist and keep on doing the hard work and you will surely succeed.
Conclusion:
Customers are the lifeline of any business, be it offline or online. Online business offer much more opportunities than offline business to acquire customers. The difference between why some business succeed while others fail is their total focus on customer acquisition at a rapid rate and that too without burning out. Being profitable at an early stage of business is a big morale booster both for the owner and the staff, the confidence it brings simply sends the business into a spiral of profitability and positivity. We sincerely hope that the tips that we have given above will be of great importance to those who are struggling to acquire customers and even more to those who are planning to start one or are an early stage start-up – they can use these tips to formulate their strategy to get customers early and eventually become a success.